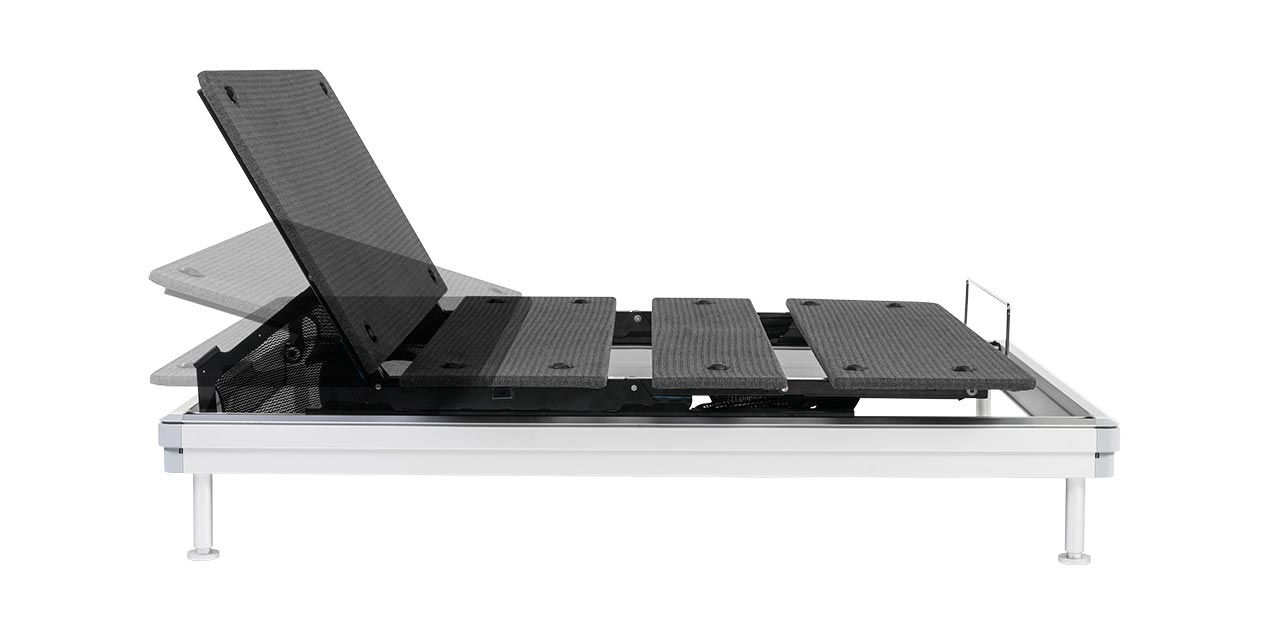 Head Up and Foot Up
Allows you to elevate your head and legs to an endless number of positions.
Nightstand Reach
One of the most efficient wall-keeping mechanisms on the market makes sure you
always stay close to your nightstand and reading light.
Flat Position Button
Easily move to full flat position with the touch of a button.
Pre-programmed Positions
Zero gravity alleviates pressure on your spine and heart, allowing for better blood
flow throughout the body.
Anti snore gently raises your head, opens up nasal airway passages and helps pre-
vent snoring.
However, you can easily store any position you like by just using the dedicated buttons
on the handset.
Enhanced User Safety
The frame comes with free-fall design which reduces the risk of getting pinched and with a fabric barrier that reduces the risk of getting entrapped;
furthermore, the hidden technology makes it almost impossible to touch moving or electrical parts.
Child Lock Feature
Lock your remote control to prevent unauthorized use of the frame.
Two USB outlets
Located on both sides so you always stay connected.
Wireless Remote Control
Experience the freedom of controlling your bed without being cable-bound.
Bluetooth Connection
Connect and control your frame with your smartphone
Wireless Sync
Connect two frames to move simultaneously, e.g. two Twin XL as a Split King
Underbed light
Makes you help finding your way at night.
Vibration Massage*
*Exclusive to the SILVERstandard+, an adjustable head and base massage for ultimate Relaxation.